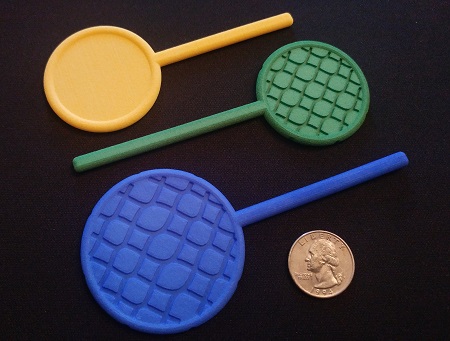 Our "DIY Paddle" is a "Do It Yourself" paddle trick, allowing a magician to produce a small item from either a lollipop or butterfly/fishing net style paddle, catching small items from spectator's ears, hair, or from "thin air". Any small, somewhat flat object can be produced up to 1 1/2" in length. You will find hundreds of flat and dimensional stickers at a craft or scrapbooking store that can be used with this paddle. Small fish, turtles, crabs, animals, butterflies, and bugs are just some of the items you will find that work great with this paddle.
Dimensional or 3D stickers are particularly effective. Catch a clown fish ("Look, you found Nemo!"), a butterfly, even catch bugs from someone's hair. You could also "eat" the item you just caught to possibly gross out your audience ("Oh no, I now have butterflies in my stomach!"). The paddle also supports 1 1/2" round stickers for printed clipart. The ideas are limited only by your DIY imagination.
We have two styles of paddles available: lollipop and fishing net. The lollipop style has a plain round face and a shorter handle to match the shape and size of a classic lollipop. The fishing net style has a longer handle and a fishing net pattern engraved on the paddle face. It also has notches along the perimeter to allow using bands to hold items (like coins) in the net. The fishing net paddle comes in two sizes: Large and standard size. The large fishing net paddle has a 2" net diameter and the standard fishing net paddle has a 1 1/2" net diameter. The large fishing net paddle is large enough to hold a folded currency bill using bands wrapped around the paddle when using it as a money paddle.
These paddles are not stocked but rather are 3D printed on-demand by our partner, Shapeways, a leader in 3D service printing. This means it will take a few days for your items to be manufactured. Estimated delivery time and shipping costs will be shown prior to confirming your ordering. Your order will be shipped directly to you from the Shapeways factory.
Visit our shop at Shapeways to order the DIY paddles as well as view our other items in our store.